$6.00Add to cart
Selfie with Santa art lesson is a wonderful for a Christmas gift for parents and grandparents. Your students will learn how to draw Santa and a self portrait. The lesson also includes questions for the teachers to ask their students about what color are their eyes, hair and shin. Also I have provided examples of mixing with color pencils.
This 17 page booklet has teaching tips, examples, step-by-step painting, and drawing instructions.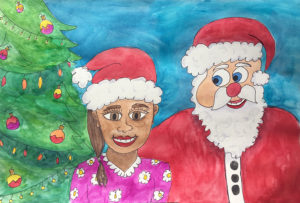 This lesson also includes:
Rubric
Short history of Santa Claws, St. Nicholas, Sinter Klaas, etc…
Santa drawing for K-2nd to copy then draw portrait
Elements of Art for this lesson
Vocabulary
Examples of facial features
Practice drawing sheets
Learning Objectives
• Experimental use of mixed media.
• Learn how to draw a Santa.
• Learn art terms related to this lesson.
• Use shading and shadow colors
• Learn to use the white of the page. (NO White Paint Allowed)
• Draw a portrait with unique & fun facial features.
• Learn to mix skin tone colors.
National Standards
Anchor Standard 2: Create personally satisfying artwork using a variety of artistic processes and materials.
Anchor Standard 3: Elaborate visual information by adding details in an artwork to enhance emerging meaning.
Anchor Standard 8: Interpret art by analyzing use of media to create subject matter, characteristics of form, and mood.
Anchor Standard 10: Create works of art that reflect community cultural traditions.
Materials
• 9" x 12" or larger white watercolor paper, construction paper, or tag board
• Fine-point black permanent markers
• Pencil and eraser
Choice of watercolor paint, markers or color pencils for coloring.
• Washable colored markers
• Watercolor paint
• Brushes
• Color pencils
• Color markers
Return/Refund Policy
Thank you for your purchase. We hope you are happy with your purchase. However, if you are not completely satisfied with your purchase of downloadable art lessons for any reason, please get in touch with us at karen@christianartlessons.com.
Downloadable products are non-refundable. Please email us if you have an issue with your order at karen@christianartlessons.com
We do not have a return policy at Christian Art Lessons because our products are downloadable virtual documents.