You get a 5 page PDF downloadable document of teaching tips, examples, and step-by-step instructions on how to make a Thanksgiving Tree.
We are all thankful for our homes and the food on our tables. When we think of Thanksgiving we think of the Pilgrims who settled on a 20 acre piece of land in Massachusetts. We all know the story of hard ship and lost of life that first year. These Pilgrims gave thanks for their religious freedom. They were so very thankful for the Indians in Squanto who brought wild turkeys and venison to the feast that first Thanksgiving.
It was President Abraham Lincoln who officially set aside the last Thursday of November, in 1863, "as a day of thanksgiving and praise to our beneficent Father." In 1941 Congress made it official and declare the fourth Thursday of November be a legal holiday.
This project is to create a tree like Gustav Klimt's The Tree of Life.
Grades 3rd-8th
2 to 3-day project (45 minutes a day)
Tips- Grades 3rd-4th may have difficulty drawing hollow or bubble letters. This age group can simply write letters in the branches.
Learning Objectives
• Study the art of Gustav Klimt.
• Use shapes & patterns in art.
• Draw a tree.
• Discuss what students are thankful for.
• Create hollow letters.
Materials
• 9" x 12" or 11" x 18"
• Construction paper
• Pencils
• Erasers
• Black fine-point permanent markers
• Colorful permanent markers
• Watercolor paint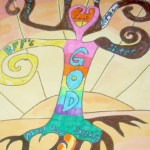 Return/Refund Policy
Thank you for your purchase. We hope you are happy with your purchase. However, if you are not completely satisfied with your purchase of downloadable art lessons for any reason, please get in touch with us at karen@christianartlessons.com.
Downloadable products are non-refundable. Please email us if you have an issue with your order at karen@christianartlessons.com
We do not have a return policy at Christian Art Lessons because our products are downloadable virtual documents.